TUSCAN MAREMMA SOJOURN
MONTE ARGENTARIO
Sea Villa with a View
THE MAREMMA... Land by the Sea
We are in southern Tuscany, with some of the Region's most glorious landscape. The Maremma includes all of Grosseto Province, with some territory in adjacent Viterbo Province which is in Lazio Region. The light is brighter, the air is balmier and it's noticeably warmer and sunnier than northern-inland Tuscany, where it is more often overcast and, in winter, freezing cold.
If you like azure skies, a more golden light warming softly undulating hills, open spaces, frequent glimpses of the sea, and many extensive views over olive tree dominated landscape... seafood dishes and rustic Tuscan 'cuccina povera' of the season... and good wines... you'll like the Maremma.
The villa is on Cala Grande, one of the most beautiful bays on the Tyrrhenian sea. We are on a 34ha/87acre seaside estate, amidst holm-oak forested slopes, vine, olive and citrus terraces, in the charming simplicity of an historic home. It is the main house of several on the property, and the travel base for groups between major holidays, fall, winter and spring and/or when not in use by family. You can be involved in a relaxing, recreative journey and feel like part of a happy family sharing each moment of experience. It is a rare opportunity to sojourn on an old villa developed by a former Vatican Secretary of Finance.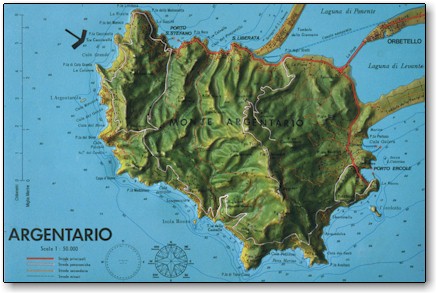 Imagine, breakfast on the terrace with vineyards below and deep blue sea-vistas beyond. You can swim in the sea through November, enjoy quiet strolls and take in fine sunsets.
It's a great out of the way place to come, unwind and recharge your energy. The place has been a 'villeggiatura' retreat for many decades, for relaxing in freedom from the pressures of the world and for alfresco dining and strolls and quiet social and intellectual discourse among friends. One of the family often in residence next to us is Dr. Arturo Osio, for many years Director-General of WWF-Italy. He was responsible for a very effective public educational program and for acquisition of thousands of hectares of managed nature reserves throughout Italy. His earlier retirement projects are twofold: Nearby in Latzio, reducing visitor impacts, overseeing the ever popular and romantic gardens among the flower covered ruins at Ninfa, what many people today consider the ideal, most perfect garden. He also was Director of Stelvio National Park, attempting to balance numbers and interests of visitors and regional development pressures on the park which is in the Alpine region of the North of Italy bordering the South-East corner of Switzerland.
Sample olive oil and wine in the cantinas. Dine alfresco. You can book the family cook who prepares her local seasonal specialties, savor regional trattoria or ristorante cuisine while on day trips, or you can shop for food in the markets and prepare your own Tuscan meals, which are often surprisingly simple. The Mediterranean-island microclimate sustains even milder fall-winter-spring seasons than the Maremma, as lemons, oranges and bougainvillea thrive here.
Besides slowing down, seabathing, or quiet strolls on this spectacular property, nearby, or on Giglio island, or exploring local fishing villages, ancient Etruscan sites, nature reserve trails, and virgin coastal landscapes, there is a menu of more than 17 days of exciting excursions.
Inland, we journey Tuscany and Lazio to see the landscapes and wine country, and legendary gardens and hill towns. See the Crete Sienese famous for its bold clay hills with fields punctuated by casa colonica farmhouses and sentinal, dark green cypresses. Explore Roman and Renaissance villas with walled secret gardens, sculpted mythemes, humorous water-trick surprises and musically resonating waterworks. Delight your senses in scented, romantic gardens with a profusion of exotic plants, flower-covered ruins and rushing, sparkling waters. You can bathe in the birthplace of Italic civilization, in fountain of youth, bathtub-like natural pools below cascading geothermal springs. Contemplate in churches or abbeys. Discover charming hill towns with narrow, winding streets and friendly piazzas. And, there are Etruscan and art museums, beautiful churches, an abbey with Gregorian chants, local markets, restaurants and wine cantinas and the famous Ital-design products. Meet artists or artisans. Be excited, as you happen upon a local market, a concert in a castle or church, a picnic spot with a view. See historic centers of Siena, or Rome--for great piazzas, fountains, churches, elegant streets and outdoor cafes--and return to the solace of a bucolic enclave.
Your creativity will be inspired as you discover garden ideas. We have fun as we go along, discussing improvements for year round interest or extending seasonal use of your estate, gardens, balcony or sunroom / wintergarden / greenhouse / conservatory. Be sure to bring photos for an ongoing informal exchange of ideas.
In Tuscany and Latzio, I'll take you to some of the best classic and romantic gardens, natural and cultural landscapes, hill villages, lively town places and Etruscan sites. You will find personal attention and an experience of the genius of places from a perspective on timeless organic and vernacular process, interdisciplinary ecological planning and the art of design from a humanistic viewpoint.
For those wishing to sample a more traditional, 'Over-the-Alps' 17-day Grand Tour the journey begins in Zürich--via the Splugen Pass to the Lake of Como to see the FAI - Fondo per l'Ambiente d'Italia (National Trust) gardens at Villa Balbianello and other places on the lake, then to the Certosa Monastery near Pavia--to Tuscany. The return from the Maremma Sojourn is via Liguria--to Camogli with it's picturesque little harbor and trompe l'oeil decoration on warmly colored buildings, and the Villa Durrazzo Pallavicini gardens near Genova, to Piemonte's famous Langhe wine district (Barbaresco, Barolo, Dolcetto, Nebbiolo), Saluzzo area and the fresco sequences at the nearby Castello della Manta on the Errant Knight and the Fountain of Youth, donated in 1983 to the FAI, then over the S Bernardo Pass to the Chateau of Chillon on Lake Geneva, and Routes des Vignerons --to Geneva.
For an extended 3 week sojourn... up to a whole 13 week teaching semester, Grand Tour Traveling Seminar and Design Workshop-Studio, where you are guided as you develop a plan for your own villa/house and garden symbol of your whole Self, or, for an imaginary learning project using an inspiring local site in Italy, or other learning projects which may be done in cooperation with Italian foundations or communities...

See Garden Design Travel Studio